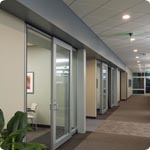 Why Choose ENERGY STAR Qualified LED Lighting?
LED lighting is a rapidly evolving technology that produces light in a whole new way. It is already beginning to surpass the quality and efficiency of existing lighting technologies, such as fluorescent and incandescent — but not all LED lighting is created equal.
The ENERGY STAR is awarded to select fixture types that meet strict efficiency, quality, and lifetime criteria.
ENERGY STAR Qualified LED Lighting:
Reduces energy costs — uses at least 75% less energy than incandescent lighting, saving on operating expenses.
Reduces maintenance costs — lasts 35 to 50 times longer than incandescent lighting and about 2 to 5 times longer than fluorescent lighting. No bulb-replacements, no ladders, no ongoing disposal program.
Reduces cooling costs — LEDs produce very little heat.
Is guaranteed — comes with a minimum three-year warranty — far beyond the industry standard.
Offers convenient features — available with dimming on some indoor models and automatic daylight shut-off and motion sensors on some outdoor models.
Is durable — won't break like a bulb.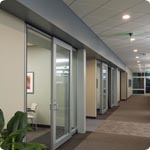 Upgrading recessed down lights (ceiling light fixtures shown in photo) to ENERGY STAR qualified LED recessed down lights can significantly reduce operating, maintenance, and cooling costs.
Case studies:
Friendly's Restaurant 

Sentry Equipment Corporation 

Cree Conference Room 

Cree Lobby 
Aren't all LED lights highly efficient and long-lasting?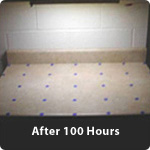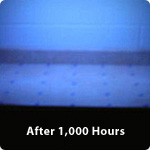 After less than a year of use, a poorly designed LED product can flicker, shift in color, look dim, offer uneven light, or continue to use power when turned off, among other problems.
Not necessarily. LEDs have been efficient and long lasting as indicator lights in electronics for years, but using LEDs to create stable white light for general lighting presents new challenges. The key to success is smart design. To qualify for ENERGY STAR, LED lighting products must pass a variety of tests to prove that the products will display the following characteristics:
Brightness is equal to or greater than existing lighting technologies(incandescent or fluorescent) and light is well distributed over the area lighted by the fixture.
Light output remains constant over time, only decreasing towards the end of the rated lifetime (at least 35,000 hours or 12 years based on use of 8 hours per day).
Excellent color quality. The shade of white light appears clear and consistent over time.
Efficiency is as good as or better than fluorescent lighting.
Light comes on instantly when turned on.
No flicker when dimmed.
No off-state power draw. The fixture does not use power when it is turned off, with the exception of external controls, whose power should not exceed 0.5 watts in the off state.
Bad design can lead to a wide range of problems, some immediately observable and some not. Poorly designed products often come with exaggerated claims while failing to deliver on the quality specifications above.
Choose ENERGY STAR quailified LED fixtures to ensure the products you purchase perform well.
http://www.energystar.gov/index.cfm?c=ssl.pr_why_es_com
https://www.torontoledinc.com/wp-content/uploads/2023/05/20130312014248551.jpg
150
150
TORONTO
/wp-content/uploads/2023/05/Logo.jpg
TORONTO
2023-05-10 02:45:54
2023-05-10 02:57:00
Why Choose ENERGY STAR Qualified LED Lighting?